Extracts from the historical past of the Dammühle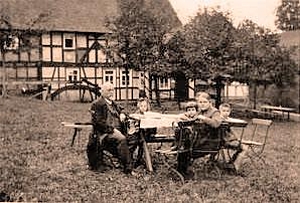 The Dammühle has been mentioned the first time in 1380. In this year the mill has been destroyed in a war. Probably a little bit away from this place in 1521, 140 years later, of the "Dammühle" has been reported again, when Peter Moller from Wehrshausen has been equipted with the rights to build and conduct a mill.
Approximately in 1770 the mill has been enlarged and after that it consists of a living-house (the reception area today), a stable barn, two more stables and the backery. Compared with the size of the little village Wehrshausen the consume of brandy and spirits was very high even in former times. This comes to the conclusion that the "Dammühle" long ago has been a popular place to meet, not only for people from Marburg and students, but even for people of other near surroundings. The business as a mill is getting strongly shorter in the fifties of the 20th century. The water was the reason that, as found out in 1848, the mill could only temporarily work, but instead it has been build up more and more business as a country inn which it is still today.